Notes
If you are putting the casserole in the fridge to bake it later, don't put the corn flakes right away. Put them just before you actually put it in the oven, or they will get soggy.
Ingredients
2 cans mushroom soup
1 container 250 grams (1 cup) sour cream
½ cup butter, melted
1 package (30 ounces) hash brown potatoes
1 medium onion, chopped (about ½ cup)
2 cups shredded old cheddar cheese (about 8 ounces) (about ½ a large brick)
½ cup crushed corn flakes (measure 1 cup and crush it down to ½)
Process
Stir the soup, sour cream and melted butter in a large Dutch oven (casserole dish) with a whisk.
Stir in the hash browns with a large wooden spoon.
Add the shredded cheese, being careful to not let it melt yet (let it do that in the oven).
Finally, sprinkle the top evenly with the crushed corn flakes.
Bake at 350°F for 45 minutes or until the mixture is hot and bubbling.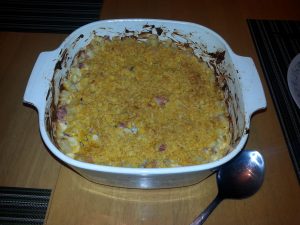 Click here for a short video of this recipe