Notes
I got this recipe from my mom, (grandgrandmaman Lorena), and I lost it somehow. But it was so good I got it from my Aunt Edna directly.
Ingredients
1 pound butter
3 cups flour
½ cup cornstarch
1 cup sifted icing sugar
1 tsp vanilla
Process
Cream butter well. Cream in flour, cornstarch and sugar one at a time. Add vanilla. Beat with electric mixer until whipped cream consistency. Drop on greased sheet and bake at 350° for about 10 minutes.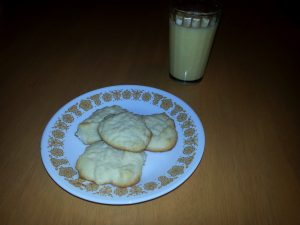 Click here for a short video of this recipe