Notes
Perfect for summertime barbecues.
Ingredients
6 – 8 medium potatoes
1 medium onion
3 – 4 stalks celery
4 – 6 boiled eggs
Mayonnaise
Paprika
Process
Boil the potatoes in their jackets (unpeeled). You'll know they are done when you can stick a fork in and they feel soft. Don't poke them too often, it makes them hard to peel.
Boil the eggs – you'll know they're done when you take one out with a spoon and the water on the egg evaporates quickly – if the water evaporates slowly, they're not done.
When the eggs are done, drain the hot water, place them under some cold water for a minute, and put them in the fridge to cool. When the potatoes are done, drain the hot water, and put them in the fridge to cool.
Dice your onion and your celery. Peel the eggs. A little trick to do this is that there is a thin "skin" under the shell, and if you can get hold of that skin, the shattered shell will come right off. Cut the eggs into small pieces.
Peel and dice your potatoes. Put everything in a large mixing bowl and add the mayonnaise. Stir well. Put in a large serving bowl or in a Tupperware for later. Sprinkle paprika on top.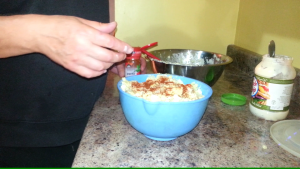 Click here for a short video of this recipe