Notes
It has been said that a true chef is judged by his or her white sauce. However, truth be told, a white sauce, or any sauce, is simple to do once you understand how to make a roux in the right quantity for the amount of liquid you are using. The roux is always the same no matter what sauce you are making. However, if you are making a white sauce for a ham casserole or a fish dinner, the liquid would be milk. If you were making a turkey dinner and wanted to make a gravy, you would still make a roux, but instead of milk you would use the drippings from the turkey. Or if you were doing a roast beef, again you would start with the roux, but you would use the liquid from the roast.
Ingredients
1 heaping tablespoon butter or margarine for every cup of milk
1 heaping tablespoon flour for every cup of milk
Process
Melt the butter or margarine in a medium-large pot. When it is melted, add the flour. Stir well and add the milk. Stir well continuously until the sauce comes to a boil. As soon as the sauce comes to a boil, turn off the heat and remove the pot from the heat. Continue stirring until the sauce stops bubbling.
To repeat, depending on the sauce you are making, instead of milk, you would put another liquid but the process remains the same.
To make the sauce thicker, add a little more flour, and, conversely, to make it thinner, add less flour or more liquid.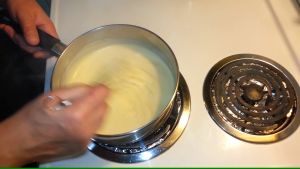 Click here for a short video of this recipe