Notes
Perfect for summer backyards or picnics.
Ingredients
Eggs
Mayonnaise
Onions (optional, cut ridiculously small)
Salt and pepper to taste
Paprika for colour
Process
Boil the eggs – you'll know they're done when you take one out with a spoon and the water on the egg evaporates quickly – if the water evaporates slowly, they're not done.
Peel the eggs. A little trick to do this is that there is a thin "skin" under the shell, and if you can get hold of that skin, the shattered shell will come right off.
Cut the eggs in half lengthwise. Remove the yolks from the whites and place them in a bowl. Mash the yolks with a fork and add some mayonnaise. Add the onions if you want onions. Use the fork to put the yolk mixture back into the egg whites where the yolks were. Sprinkle your eggs with salt and pepper and paprika.
You can buy a Tupperware made specifically for deviled eggs, but if you don't have one on hand and you want to cover them with saran wrap, put some toothpicks into some of them so your eggs don't get squashed. Chill and serve with BBQ.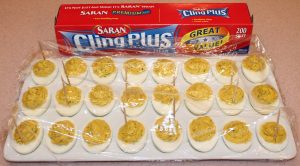 Click here for a short video of this recipe