Notes
I just use the pre-made crusts from the store – it's a lot easier!
Ingredients
Graham Cracker Crust
1 ¼ cups graham cracker crumbs
¼ cup margarine, softened
¼ cup sugar
Filling
1 (8 ounce) package cream cheese
1 cup powdered (icing) sugar
1 teaspoon vanilla extract
1 cup heavy cream, whipped
1 (12.5 ounce) can cherry pie filling (or other filling of your choice)
Process
Mix graham cracker crumbs, margarine, and sugar in a bowl until well incorporated and crumbly. Press into a pie plate, going up the sides as much as possible.
Beat together the cream cheese, sugar, and vanilla in a bowl until smooth and spreadable. Whisk whipped cream into cream cheese mixture until smooth. Pour cream cheese into prepared crust. Smooth the top with a spatula, and refrigerate until firm, about 2 to 3 hours. Spread the cherry pie filling over the top and refrigerate until serving.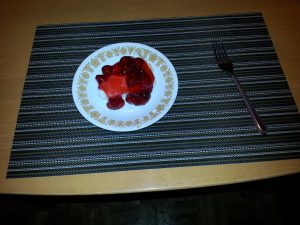 Click here for a short video of this recipe