Notes
You can make the soup from scratch but it's a lot easier to use cans of prepared. I use two cans because it makes four servings and the bowls come in sets of four.
Ingredients
2 cans Campbells Onion Soup
Water
4 slices white or whole wheat bread
2 cups grated mozzarella cheese
Process
Open the cans and place the soup in a medium size saucepan. Add two cans of water and place on medium high heat.
Place the slices of bread on your work area. Put one of the bowls upside down on the bread and press down to cut the bread. Remove the edges to have circles of bread.
When the soup is heated, place the soup evenly in the four bowls. Put a circle of bread on each one. Add half a cup of cheese on each one.
In an electric oven, place a rack on the highest level. Set the oven heat to broil. In a gas oven your broil might work differently. Place the bowls under the broil element. Let the soup broil until the cheese turns brown. Carefully remove the bowls from the oven and put the tops on. Place them on medium plates as they are too hot to handle and serve.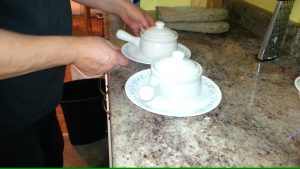 Click here for a short video of this recipe