Notes
Carole likes this recipe so much we have it almost every Sunday morning.
Ingredients
2 eggs
¾ cup milk
2/3 cup flour
margarine
Process
Crack open the eggs into a large mixing bowl. Add the milk and stir well with a whisk. Add the flour and stir well again. It takes a while to get all the lumps out.
Put a large fry pan on the stove and set the heat to medium high. Wait for your pan to get quite hot. Put some margarine in the pan and spread it around.
Pour in 1/3 of the batter. When the crepe starts to get bubbles and the "finish" turns from gloss to matte, flip the crepe over. Leave it on the other side for 30 seconds to a minute and then flip it back over. Put it on a plate and roll it up and put it on another plate to serve.
Serve with coffee or hot chocolate and orange juice.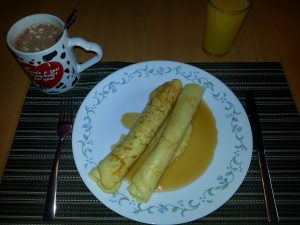 Click here for a short video of this recipe